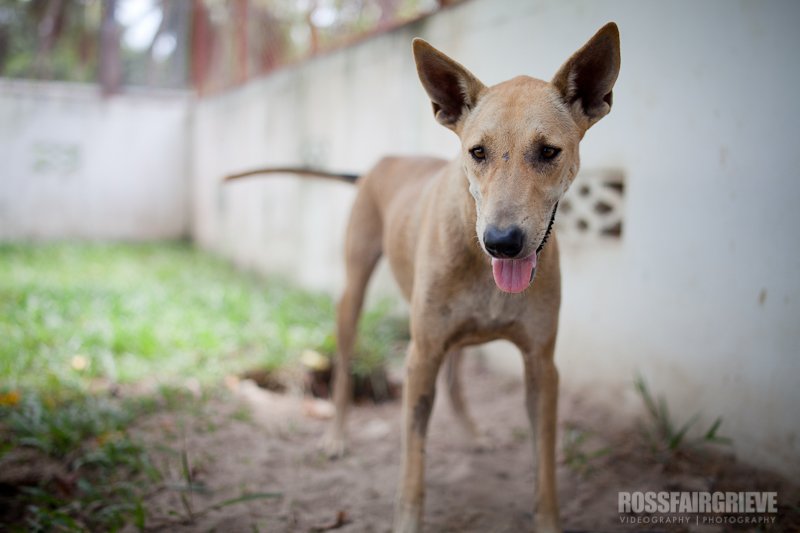 Several months ago, I did a miniature tour of Thailand, visiting a few charities and making videos for them. One of those charities was PhaNgan Animal Care. PAC is an organisation that treats, neuters and vaccinates the stray animal population on the island of Koh PhaNgan. Koh PhaNgan is now a popular tourist destination most famous (or infamous!) for the "full moon party" that's held every…well…full moon. Anyone who has visited Koh PhaNgan will know that there is a huge population of stray dogs and cats on the island. PAC aims to stop this population from growing uncontrollably, keep it rabies free and treat the sick and injured animals.
One of the sick animals that came into PAC was Cleo. In June last year, Cleo was brought into the clinic almost totally paralysed from tick fever. She couldn't stand, she was incontinent and she couldn't eat or drink by herself. She was dying. At this point, many people would have given up but the staff and volunteers at PhaNgan Animal Care decided to give her one more chance. Ildiko Toth (or Ildi), one of the volunteers at PAC, formed an amazingly strong bond with Cleo that I witnessed first-hand when I visited the clinic. The way that Cleo's tail would start madly wagging whenever she saw Ildi was so adorable. If Ildi had a tail, I think the same would have happened the other way around, too.
Ildi, along with the other volunteers and members of staff at PAC, put a monumental amount of effort into rehabilitating Cleo and it was not an easy ride. It all paid off in the end though; having been on the brink of death, she's now back on her feet, running around and enjoying life to the full. This little video, put together from photos and videos taken by PAC volunteers, shows her story.
There are so many ways that YOU can easily help further the incredible work that PAC are doing:
Hit the little Facebook "Like" button or Twitter "Tweet" button at the end of this post to share this page. This helps so much to spread the word about everything that PAC is doing.
Go to www.pacthailand.org and make a small (or large!) donation. It only takes a couple of minutes and is the only way that PAC's work will be able to continue.
Go to www.pacthailand.org again and become a volunteer to help out at the centre on one of Thailand's most beautiful islands!
A big thanks to Ildi and the other guys at PAC for the footage and photos of Cleo's early days with them. Soundtrack is "Angel" by Sarah McLachlan, available on iTunes HERE.